COVID-19—Balancing the Benefit and the Evidence
Guidance for Cancer Patients—and the Rest of Us
This webpage is for all of us who are at risk of COVID-19.
Key Points
COVID-19 may have affected your lives substantially, including your medical care if you are a cancer patient.
Although there is still uncertainty about how COVID behaves, how it spreads, how it's treated and how to reduce the risk, we are learning about it faster than we've learned about any other contagious disease. We're updating this page often as new information is published.
Based on what we know about COVID and other similar viruses, some lifestyle measures and natural products may be useful in addition to the basic preventive measures the CDC advises.
Misinformation about COVID abounds, making knowing what to do difficult.
BCCT seeks to sort the facts from the myths, looking for the most credible and current scientific evidence.
COVID-19 has affected our lives in unprecedented ways. Though there is still a great deal we don't know about this virus—exactly how it behaves and spreads, how it's treated, and how to reduce the risk—we are learning about COVID-19 faster than we've learned about any other contagious disease.
BCCT seeks to support you, your families, and communities by sorting out the fact from the myth, presenting the most credible and current scientific evidence on what you can do to prevent transmission and to bolster resilience to infection. We offer guidance on lifestyle practices to support your immune system so that your body is better able to fight the virus. We also list natural products that may help, as well as those that may hurt. We have compiled guidance from credible practitioners on appropriate use of natural products.
The US Centers for Disease Control and Prevention (CDC) does good work promoting hygiene measures. What is remarkable is the absence of widespread awareness of the possible benefits of health promotion and the potential value of integrative medicine. BCCT hopes to help bridge this gap.
Prevention Recommendations from the CDC
Wash your hands often, and avoid touching your eyes, nose, and mouth with unwashed hands.
Avoid close contact (within six feet) with those outside your household and avoid groups.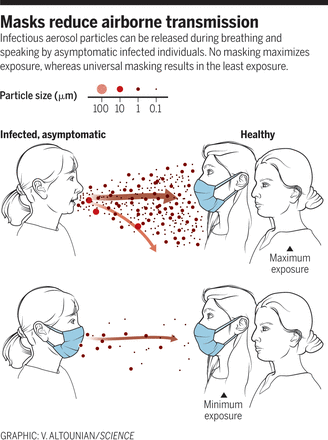 Cover your mouth and nose with a cloth face cover when around others.
Cover coughs and sneezes.
Clean and disinfect frequently touched surfaces daily.
Monitor your health daily.
Cancer Care during the Pandemic
Global experts led by the European Society for Medical Oncology have reached consensus regarding cancer care at this time. Highlights of their 28 recommendations include these:
Telehealth and digital health can be an excellent tool in many areas of oncology and primary care.
Prophylaxis using low molecular weight heparin or novel oral anticoagulants (NOACs) is recommended in patients with cancer and COVID-19 infection.
Cancer treatment should not be discontinued or delayed if it can affect overall survival. Special consideration is given for treatment with immune checkpoint inhibitors (ICIs), with high-dose steroids, or with tyrosine kinase inhibitors.
Specific recommendations are provided for curative therapies for patients with breast, lung and rectal cancers.
Stop labeling all patients with cancer as vulnerable to infection with the virus as it can lead to inappropriate care with potential negative outcomes.
See news, research and other guidance specific to cancer patients in the Cancer-specific Guidance section at the end of this page.
Integrative Approaches
Integrative Health Resources on COVID-19
Some of the better integrative health websites and resources that we respect:
Specific to children:
Note that recommendations from these sites differ, yet there is considerable overlap.
Health professionals may also want to review further information at the end of this page in the "For Healthcare Professionals" section.
COVID-19 and Cancer
Cancer tends to thrive in an inflamed body. Strategies that minimize inflammation to reduce cancer risk may also reduce risks of severe COVID-19.2
A list of websites and resources that we respect is shown at right. We also offer some notes that will continue to evolve as our understanding of the virus evolves.
We list what is known about supplements and natural products. Some herbal and nutritional supplements and other integrative practices may also be of benefit. Equally important, some herbal and nutritional supplements may increase your risk. But first we tell you about 7 Healing Practices to get healthier—and some of which you may have overlooked.
What is remarkable is the absence of widespread awareness of the possible benefits of health promotion and the potential value of integrative medicine.
Donald Abrams, MD, has famously said about integrative medicine: "The lower the risk, the lower the burden of proof." If something is unlikely to hurt you and may well benefit you, it may be worth your consideration. While the therapies offered on this page have not been tested on the COVID-19 virus, most are unlikely to hurt you and show indications of possible benefit.
Based on research in MERS, another coronavirus, early detection and treatment are key to increase your chances of recovery.4 Report symptoms as soon as possible, get tested and follow monitoring and treatment protocols.
But even before you show symptoms, you can bolster your immune response, alleviate stress and inflammation, and promote wellness.
The 7 Healing Practices Build the Foundation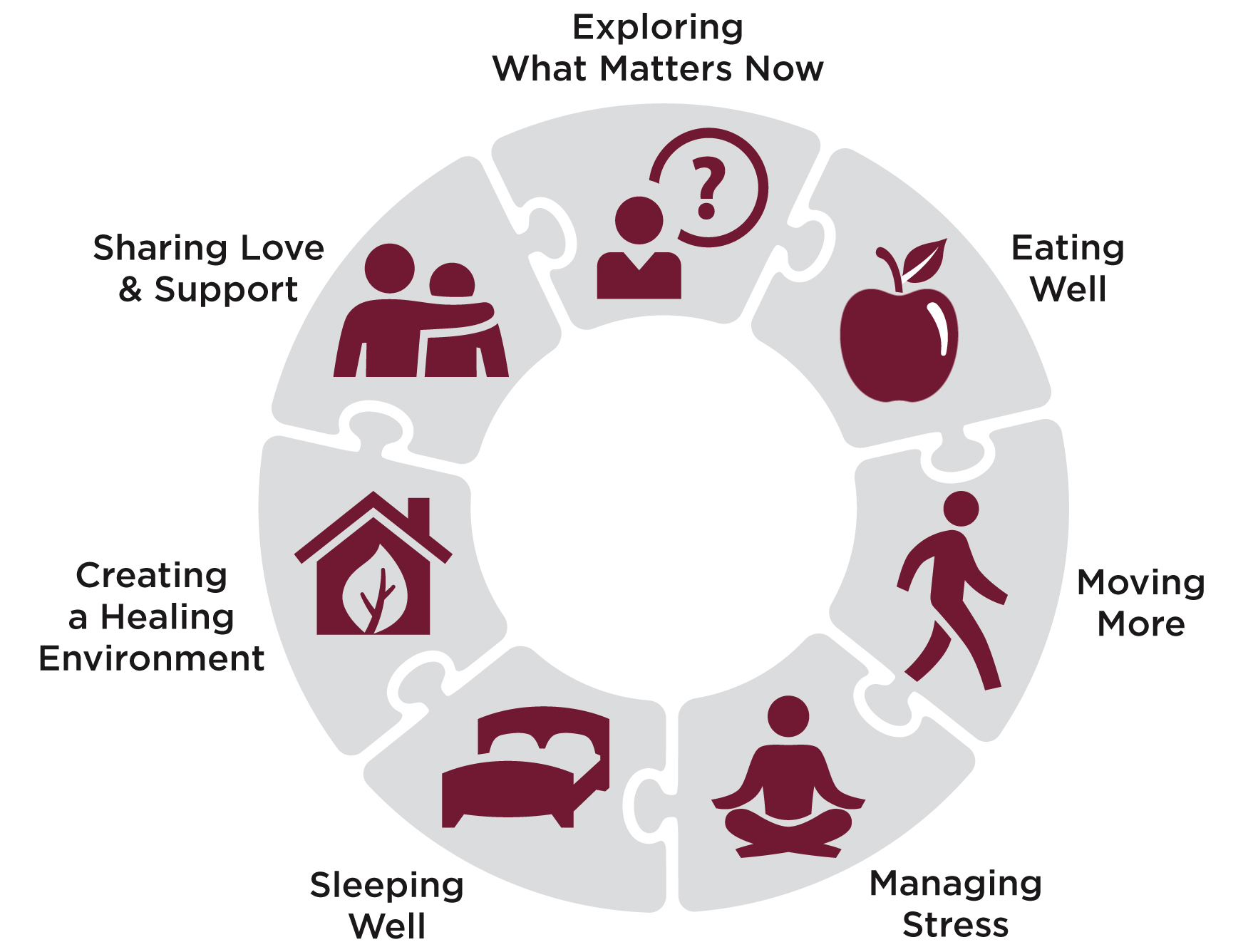 Highlighted Video

Anna O'Malley, MD, discusses living well to boost resilience.
The healthier you are at any age, the more likely you are to mitigate the severity of an infection and improve chances of recovery. Our 7 Healing Practices promote health and wellness. Each of these seven practices has strong research support for making you a healthier and more resilient person at any age.
Zinc and Respiratory Infections
Zinc deficiency, which reduces immunity, is common in the elderly, strict vegetarians and people taking medications including ACE Inhibitors and those that reduce stomach acid (such as omeprazole or esomeprazole).
Shellfish, legumes, dark chocolate and pumpkin seeds are good sources of zinc. Other foods are listed by HealthLine.
Supplementing zinc in people who are deficient may reduce the chance of getting a respiratory infection.5 According to integrative oncologist and BCCT advisor Keith Block, MD, zinc supplements are not needed as a preventive by most people and could have adverse effects if taken for too long.
Eating well, especially 5-7 servings of vegetables and 2-3 servings of fruits a day, particularly naturally colorful fruits and vegetables high in flavonoids, such as tomatoes, apples, onions, oranges, nuts, parsley, celery and berries. Also consider eating foods high in zinc, especially if you have a deficiency (see the box at right). Avoid foods that disrupt the immune system or promote inflammation, such as sweets, sugar, and processed foods with chemical additives. If you have food allergies or sensitivities, such as with gluten and dairy, avoiding those foods can lessen inflammation.
Moving more is beneficial, especially outdoors in nature. Based on studies of other respiratory viral infections (pre-Covid-19) moderate intensity exercise may improve immune function and lower the risk and severity of infection. Prolonged, intense exercise can compromise the immune system.6
Managing stress: Fear causes stress, and stress disrupts the immune system, increasing pro-inflammatory cytokines that can lead to more severe disease.7 Moving from fearful to careful can make a difference. Dr. Martin Rossman's website offers Free Audio and Video Resources to Help with Your Stress and Self-Care, which can help you let go of stress. Many other techniques and approaches are described on our Mind-Body Approaches summaries.
Sleeping well: Many integrative physicians say this is the most important thing you can do. Sleep allows the immune system to reset.
Creating a healing environment: See Is COVID-19 making you stay at home or "shelter-in-place"? Turn your home into a healing space! from the Andrew Weil Center for Integrative Medicine.
Sharing love and support may reduce susceptibility to respiratory infection.8 Free counseling and 100 online support groups are available through CancerCare. Also see our Healing Circles: Share Your Experience page.
Exploring what matters now: A diagnosis of cancer creates much uncertainty in your personal world. The COVID-19 pandemic makes for uncertain times for the entire world. Many more of us are looking carefully at what really matters. What we learn from that exploration may change our lives in profound ways.
Other notes about health-promoting behaviors:
Traditional Chinese medicine practitioners believe you should stay warm so your body temperature doesn't drop and burden your immune system.
If you smoke, consider seeking support to quit. Quitting can make a difference quickly.9
Natural Products and Viruses
Some herbal and nutritional supplements and other integrative practices may also be of benefit.
In general, supplements and products that regulate a healthy immune response are beneficial before infection. But no human trials have been completed with natural products and COVID-19. Balance the potential benefits with costs and potential harm from supplements. See our list at right of some trusted websites for recommendations from credible practitioners. Note that these recommendations vary.
Recognize that supplements that boost immune function may be beneficial before infection but afterward might contribute to an inflammatory cascade. At that point, recommendations often shift.
Supplements to Avoid
Some remedies are not backed by evidence and/or may be unsafe. ConsumerLab details particular danger with these that should not be used:
Miracle Mineral Solution (sodium chlorite)
Chlorine dioxide kits
Colloidal silver (although some sources recommend gargling with colloidal silver mouthwash, making sure not to swallow).
Oleander is a more recent suggestion that also should not be taken, as it it highly toxic.10
If you have an active infection or you think you might have the infection, don't take or immediately stop taking these immunostimulatory agents which increase inflammatory cytokines:11
Polysaccharide extracts from medicinal mushrooms
Echinacea angustifolia and E. purpurea
Larch arabinogalactan
Elderberry (Sambucus nigra) is somewhat controversial. It is widely considered helpful for reducing risk of viral infections, and some experts think it may help reduce risk of COVID-19, but there is no scientific evidence of this. With an active viral infection some practitioners recommend discontinuing it, while others do not believe it will be harmful. See the Commentary below.
Supplements Recommended by Knowledgeable Integrative Health Practitioners
The Debate over Vitamin C (and Other Supplements)
The question of whether vitamin C, either oral or high dose intravenous (IV), is actually beneficial is debated. In fact the debate over vitamin C mirrors the debate over many other supplements and natural products mentioned here.
These supplements are recommended to reduce risk of COVID-19 infection and/or to lessen symptoms or severity of infection. Please refer to the respected websites and resources listed above to get guidance on when, how much and how to take supplements:
Astragalus (Astragalus membranaceus)
Elderberry (Sambucus nigra) (controversial during an active infection)
Garlic (Allium sativum)
Licorice root (Glycyrrhiza glabra)
Medicinal mushrooms (full mycelium mushroom extracts, but not polysaccharide extracts)
Vitamin D (some advise against use during an active infection); six medical societies from across the globe have published Joint Guidance on Vitamin D in the Era of COVID-19.
Zinc pills or lozenges for about a week or so when symptoms of COVID-19 begin (even if you don't have a zinc deficiency). Some caution against nose sprays or swabs that contain zinc, as these have been linked to loss of smell.
No one is claiming these supplements cure COVID-19, but they may lessen the risk or the severity of disease. Dosing recommendations are available from the Andrew Weil Center for Integrative Medicine and ConsumerLab.
Other Therapies and Approaches
During a 2003 SARS outbreak, inhaled nitric oxide improved lung function, reduced time spent on a ventilator and showed antiviral activity. Several device companies have recently received FDA's blessing for emergency expanded access to offer inhaled nitric oxide gas for treating COVID-19.13 SJ. Nitric oxide, BCG, and COVID-19's weakness. MedPage Today. May 10, 2020. Viewed May 18, 2020.
Complementary Medical System Approaches
Highlighted Videos

Cynthia Li, MD, talks about building personal immunity and resilience in the face of crises like the current pandemic.
BCCT advisor, hospice and palliative care physician and author BJ Miller, MD, explores the future of palliative care in the face of the COVID-19 pandemic.
Physician and clinical instructor Roger Seheult, MD, provides practical information about his own regimen and what he tells his patients.
Advance Care Planning
Those at greater risk for more serious COVID-19 illness may be thinking about how you'd like to be cared for should you become critically ill. Could a ventilator help me? If I'm nearing the end of my life, are there effective ways my pain and distress can be controlled at home or in a palliative/hospice care unit? These are important questions.
Naturopathic medicine, functional medicine, traditional Chinese medicine, Ayurveda and other systems each have approaches to wellness, to immune support, and to fighting viral infections. Following a specific approach may help you avoid overloading your body by using a shotgun approach—taking everything that anyone recommends, irrespective of possible interactions or side effects, or of its potential benefit for your situation.
Commentary
Naturopathic oncologist and BCCT advisor Heather Wright, April 6, 2020: There was an active debate about elderberry within our organization. I believe elderberry is okay and will be supportive, as do others in our community. I will say I have had two patients over the years with confirmed elderberry allergy, though, so this is not unheard of. I do not think elderberry will contribute to the inflammatory cascade in COVID. I also don't think people can or will take enough of it to do harm. Elderberry syrup on all bottles recommends very low doses. I don't see my patients going beyond conservative dosing on labels and at those doses I believe they will be safe and that it will be supportive.
Written by Laura Pole, RN, MSN, OCNS, and reviewed by Nancy Hepp, MS; most recent update on September 25, 2020.
More Information
General COVID-19 Resources
Cancer-specific Guidance
Treatments and Prevention for COVID-19
Treatments and Prevention for Other Viruses or Improving Your Immune Response
Highlighted Video: Diaphragmatic Breathing
Digestive and Liver Health services at Michigan Medicine demonstrate diaphragmatic breathing. Evidence suggests that diaphragmatic breathing, pursed-lip breathing, and yoga breathing are all viable techniques for improving lung function.
Isolation and Mental Health
Recovery
News
For Healthcare Professionals
Enter your comments or questions below.
Comments (0)
-- end quip comments -->