Colorectal Cancer

We're updating this page! Look for a full handbook in October 2020.
Overview
Quick Reference
Open a 2-page quick reference summary of the therapies best supported by evidence for use with colorectal cancer: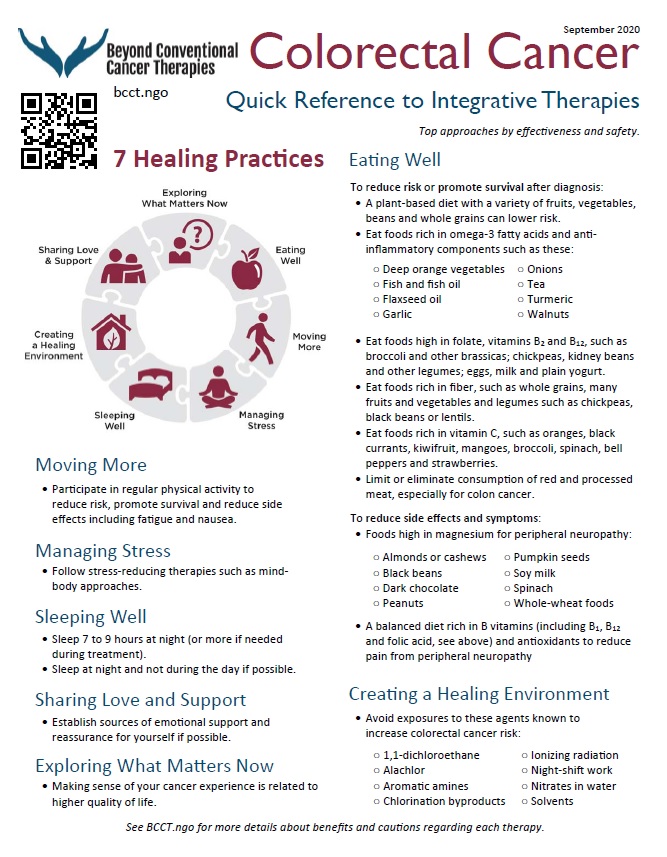 Our goal is to help you live as well as you can for as long as you can using the optimal combination of conventional, complementary and integrative therapies and approaches. Here you'll find resources for colorectal cancer. You can also use the search box in the upper right corner of every page or go to Search Therapy Summaries and search for your cancer.
Integrative Care in Colorectal Cancer
A 2018 article in The Journal of Alternative and Complementary Medicine provides an excellent overview of integrative therapies: Integrative treatment for colorectal cancer: a comprehensive approach.1 BCCT highly recommends this information source. We will create our own summary with more information soon.
Clinical Practice Guidelines
Screening Guidelines
Other Professional Recommendations
The US Preventive Services Task Force recommends initiating low-dose aspirin use for the primary prevention of cardiovascular disease and colorectal cancer in adults aged 50 to 59 years who have a 10 percent or greater 10-year CVD risk, are not at increased risk for bleeding, have a life expectancy of at least 10 years, and are willing to take low-dose aspirin daily for at least 10 years.2
Integrative Programs, Protocols and Medical Systems
More Information
General Information
Prevention
Surgery
Clinical Trials
Advocacy and Support Groups
More from Our Resources Database
Enter your comments or questions below.
Comments (0)
-- end quip comments -->