Building Resilience: Cancer Prehab and Rehab
Key Points
Resilience is the ability to recover quickly from difficulties.
Prehabilitation (prehab) involves strengthening your body, mind and spirit before treatment begins.
Many cancer treatment centers offer prehab programs and services, although not all formally call their services "prehab."
A rehabilitation (rehab) program is individually designed to restore health after treatment, sometimes to a higher level than before diagnosis.
Resilience
Resilience is the ability to recover quickly from difficulties such as the rigors of cancer treatment. Resilience is connected to higher quality of life and, in some cases, improved outcomes for people with cancer. Many factors contribute to your level of resilience:
Your previous experiences in dealing with adversity
Your coping skills
Your social support systems
Your resources
Your general health
Adversity and Personal Growth
Going through cancer treatment can be one of those adversities that make you more resilient and from which you can find important meaning for your life. There is a saying and a popular song: "What doesn't kill you makes you stronger!" Many people with cancer find that to be true.
Some people may have innate strengths and qualities that support their resilience, while others must cultivate and enhance the ability to persist and recover during adverse times. These techniques may enhance resilience:
Self-care practices that support physical, mental and emotional health
Receiving information, guidance, support and therapies from others, such as enlisting a social worker to help you access resources for transportation, paying for your treatments and child care
Learning mind-body skills to manage stress
Pretreatment Approaches ("Prehab")
Highlighted Video
BCCT advisor Brian Bouch, MD, explains how to boost immunity before starting conventional cancer treatments.
After a cancer diagnosis and before treatment begins, you can prepare your body/mind/spirit so that you are in the best shape possible to meet the challenges of cancer treatment. This process is called cancer prehabilitation. Examples:
Men preparing for radical prostatectomy can learn to do pelvic floor exercises to strengthen these muscles and reduce the risk of incontinence after surgery. These men can also learn stress management skills with the goal of improving mood both before and after surgery.
The Society for Integrative Oncology 2013 clinical practice guidelines suggest supervised exercise-based pulmonary (p)rehabilitation in patients awaiting pulmonary resection for suspected lung cancer with compromised lung function, with a goal of improving cardiorespiratory fitness and functional capacity.1
We at BCCT believe that rehabilitation after cancer treatment should become a standard part of survivorship care.
Centers and practices that offer cancer prehab generally begin with a baseline of patients' physical and psychological health for these reasons:
Assess functional level
Identify any impairments
Provide information and therapies which would promote physical and emotional health.
The goal is to reduce the occurrence and/or severity of future impairments from cancer treatment.2 Preliminary evidence supports this goal: a 2019 analysis of preoperative multimodal exercise and nutritional programs found improved five-year disease-free survival in stage III colorectal cancer patients undergoing elective, biopsy-proven, primary non-metastatic colorectal cancer surgery. However, no improvement was seen in overall survival.3
Prehab Approaches in Clinics, Hospitals and Centers
The Block Center for Integrative Cancer Treatment is an example of an integrative oncology program that first helps a patient become as healthy as possible before conventional cancer treatment begins. Lifestyle changes, diet, nutritional supplements, psychosocial support, counseling, vitamins and exercise may begin before cancer treatment and continue throughout and after treatment. If you are looking into integrative cancer practices, ask about pretreatment services to "shore you up" before you begin your cancer treatment.
Some cancer treatment clinics and centers now formally offer cancer prehab, with some receiving the STAR (survivorship training and rehabilitation) program training and certification developed by a team of clinicians led by Julie Silver, MD. Dr. Silver is an associate professor at Harvard Medical School, a cancer survivor and the author of several books on oncology rehabilitation. Some healthcare facilities in Massachusetts, Rhode Island and Baltimore are using the STAR model of prehab.4 A network of hospitals in Pennsylvania also offers cancer prehab.5
Even if a cancer treatment center doesn't formally advertise a prehab program, many offer services that are considered prehab. For example, most centers provide pre-surgery speech therapy for patients scheduled for larynx removal. Ask your cancer providers if they provide or refer patients to cancer prehab services and what those services are. If they don't, consider researching the types of prehabilitation services helpful for your situation before your treatment begins, then talk with your doctor about helping you access those services. Help with practical issues such as transportation, child care, and paying medical bills are part of prehab, as well as psychological counseling. Some places to start your search:
Cancer Rehabilitation: A Plan for Recovery
Anticancer Lifestyle Program
Using expert videos, animation, text and interactives, the Change Module of the Anticancer Lifestyle Program introduces you to the course, and help you make lasting lifestyle changes that will decrease inflammation and enhance your immune system's ability to fight disease.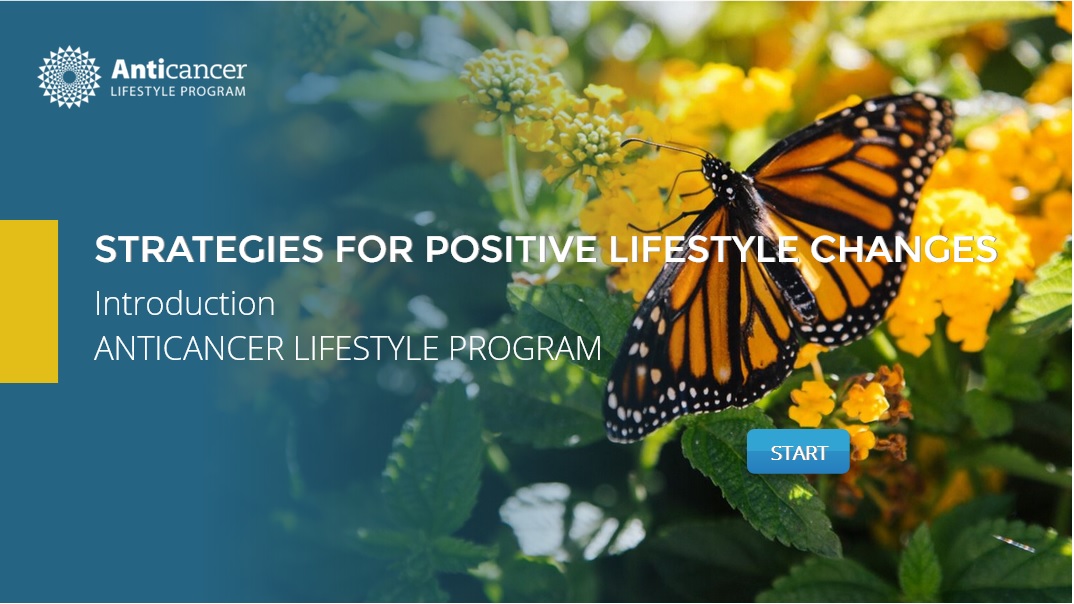 This online course is available for a modest fee which can be waived.
Cardiac Rehab: A Comparison
From the American Heart Association website:6
Cardiac rehab doesn't change your past, but it can help you improve your heart's future. It's a medically supervised program designed to help improve your cardiovascular health if you have experienced heart attack, heart failure, angioplasty or heart surgery. Think of cardiac rehab as three equally important parts:
Exercise counseling and training: Exercise gets your heart pumping and your entire cardiovascular system working. You'll learn how to get your body moving in ways that promote heart health.
Education for heart-healthy living: Managing your risk factors, choosing good nutrition, quitting smoking…education about heart-healthy living is a key element of cardiac rehab.
Counseling to reduce stress: Stress hurts your heart. This part of rehab helps you identify and tackle everyday sources of stress.
We at BCCT believe that rehabilitation after cancer treatment should become a standard part of survivorship care, just as cardiac rehab is for those with heart disease. A cancer rehab program would be tailored to the special needs of cancer survivors, using evidence-based educational programs and supportive therapies to restore health, and quite possibly improve a person's health above their pre-cancer diagnosis baseline.
Written by Laura Pole, RN, MSN, OCNS, and Nancy Hepp, MS; most recent update on September 24, 2020.
More Information
Royal College of Anaesthetists, Macmillan Cancer Support, and the National Institute for Health Research Cancer and Nutrition Collaboration: Prehabilitation for People with Cancer
The American Society for Clinical Oncology: Cancer.net
Justin F Black, DO: Cancer and Rehabilitation. Medscape
Cancer prehab/rehab services may be available in your area. Search the Internet, your phone book, and your local medical providers for leads.
OncoLink: OncoLife™ Survivorship Care Plan
American Institute for Cancer Research: New American Plate Challenge
The New School at Commonweal: Keith Block, MD: Life over Cancer—Achieving A Survivor's Edge
The New School at Commonweal: Dwight McKee, MD: 40 Years Practicing Integrative Cancer Medicine, Part 1
The New School at Commonweal: Dwight McKee, MD: 40 Years Practicing Integrative Cancer Medicine, Part 2
Henry Mayo Clinic: Keith Block: New Roads to Health: Life over Cancer
McDougall Advanced Study Weekend: Keith Block MD Speaks about a New Model of Integrative Cancer Treatment
Neil McKinney, BSc, ND: Naturopathic Oncology, 3rd Edition
Michael Lerner: Choices In Healing: Integrating the Best of Conventional and Complementary Approaches to Cancer
Martin L. Rossman, MD: Fighting Cancer
Enter your comments or questions below.
Comments (0)
-- end quip comments -->