Sharing Love and Support
Also known by these names:
Social support
Support network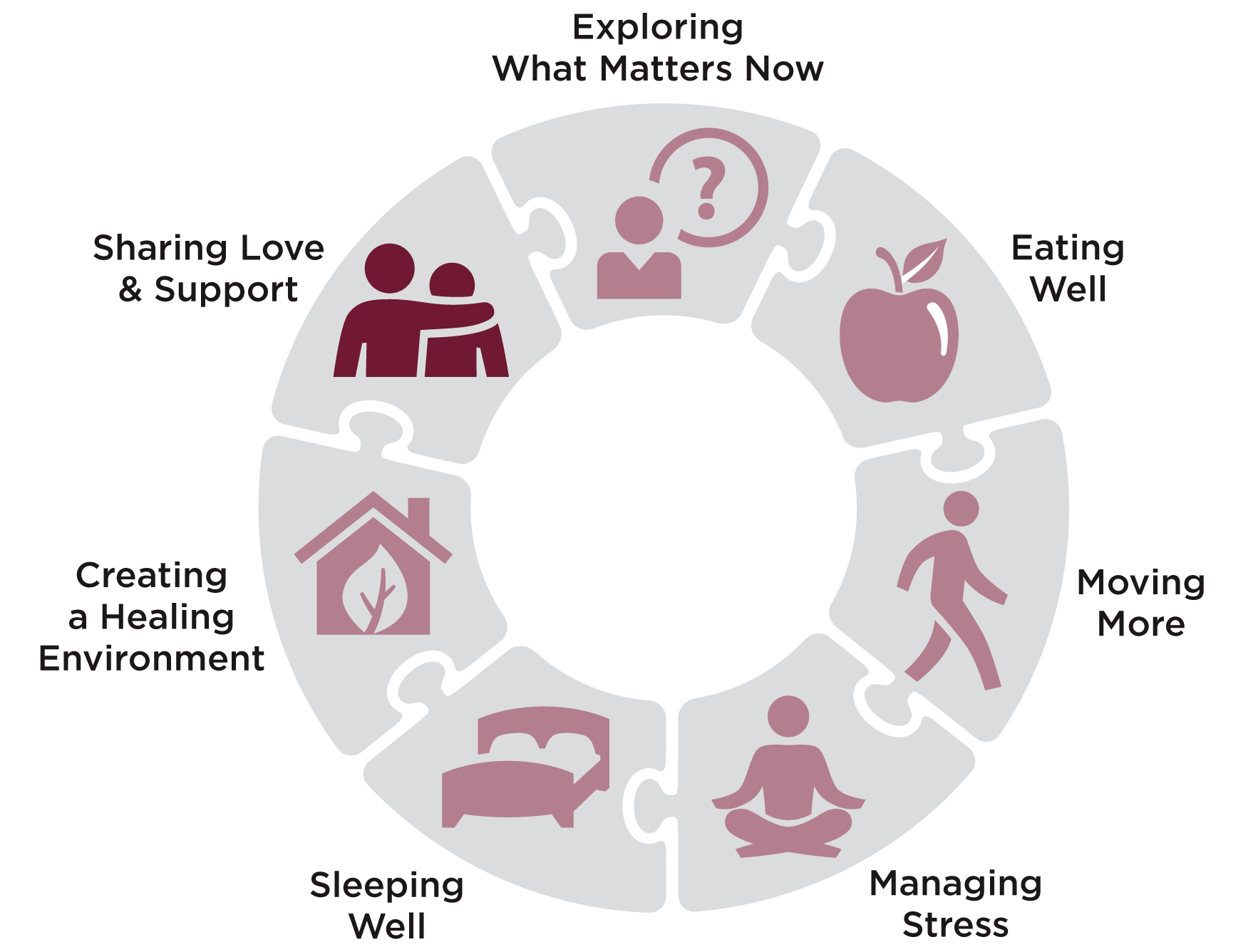 Love heals. That is the simplest way to put it. Friends help us heal. Kindness heals. Kindness, they say, is love with its work boots on. The experience of being surrounded by love, family and friends who care about you, and the kindness of strangers—including doctors and other healers who care for you—is for many an awesomely powerful experience.
Key Points
The National Cancer Institute defines social support as "a network of family, friends, neighbors, and community members that is available in times of need to give psychological, physical, and financial help."
Social support can be categorized into three major types: emotional, instrumental and informational support.
BCCT's interest in sharing love and support is affirmed by studies that have found that strong social ties and social integration are linked to better resistance to illness, lower mortality, lower risk of recurrence, and improved survival.
Sharing love and support is most likely beneficial across a wide range of cancers, even though research to date may focus on only a few cancer types.
Sharing love and support, like several other lifestyle-related therapies, generally involves very little risk, may improve quality of life and possibly improve cancer outcomes, and many practitioners are comfortable recommending this for patients.
There is a whole literature on why social support matters. We could say social support is the neutral language with which researchers describe love, friendship and the kindness of strangers. People with stronger social support are healthier all their lives and do better when they get sick. So finding and receiving love and kindness matters. While it is easy for some, others find it difficult to find and even difficult to receive.
Michael Lerner
Introduction
Love heals. That is the simplest way to put it. Friends help us heal. Kindness heals.
Some of the BCCT staff have worked on hundreds of week-long residential retreats for people with cancer. These retreats have made strikingly clear that being in community and support with fellow wounded healers—as well as going home and revving up social support systems—contributes to long-term, life-changing benefits.
Types of Social Support
Highlighted Videos
BCCT founder Michael Lerner delineates what constitutes a healing circle.
Author, clinical professor and BCCT advisor Rachel Naomi Remen, MD, shares the healing power of generous listening.
Don't Forget Our Caregivers
Caregivers for those with cancer also need social and professional support in caring for their loved ones.
See our Caring for Caregivers page for more information about caring for yourself and finding support.
Social support can be categorized into three major types:2
Emotional: what people do that make us feel loved and cared for, that increases our sense of self-worth; this includes actions such as talking over a problem, or providing encouragement/positive feedback
Instrumental: various types of practical help that others may provide, such as help with childcare/housekeeping, or providing transportation or money
Informational: the help that others may offer through providing information
Building Your Social Support Network
BCCT has collected ideas from several sources for making good use of your social support resources and building your social support network.
Also see a list of online support communities and related resources on our Healing Circles: Share Your Experience page.
Clinical Practice Guidelines
The Society for Integrative Oncology clinical practice guidelines give a Grade 1A rating to support groups and supportive/expressive therapy as part of a multidisciplinary approach to reduce anxiety, mood disturbance, chronic pain and improve quality of life. This is the strongest level of recommendation, meaning that in a review of quality evidence, the benefits outweigh the risks and the therapy can be applied to most patients in most circumstances without reservation.7
Treating the Cancer
Working against cancer growth or spread, improving survival, or working with other treatments or therapies to improve their anticancer action
Sharing love and support (especially emotional support) has a strong positive influence on disease outcomes:8
Having good social support seems to improve chances of survival after heart attack, stroke and possibly even cancer.
Social isolation is associated with all-cause mortality, with the level of greater risk varying in the US according to race and gender. With greater social isolation, both men and women of African-American descent show greater increased mortality than their peers of European-American descent. Cancer mortality was greater among women of European-American descent compared to their male counterparts, although this difference was not seen between women and men of African-American descent.
Stress, Cancer and Social Support
Stress hormones can exert tremendous influence on the tumor microenvironment (see our Managing Stress page). Mediating the stress response with love and support is an important part of an integrative cancer care plan. "The effect of social support on life expectancy appears to be as strong as the effects of obesity, cigarette smoking, hypertension, or level of physical activity."9
We emphasize that love and support can likely benefit most people with cancer and their caregivers, even though studies have been done in only a limited number of cancers.
Many outstanding integrative oncology care clinicians, including several of BCCT's advisors, stress the importance of social support and include it in their integrative care protocols and plans
Cancer in General
Caregivers of People with Cancer
Child and Adolescent Cancer Survivors
Advanced Cancer
Breast Cancer
Colorectal Cancer
Ovarian Cancer
Prostate Cancer
Testicular Cancer
Managing Side Effects and Promoting Wellness
Sharing Love Widely
39-year-old Manuel Garcia spent weeks in the hospital for cancer treatment. He felt all alone in his baldness and cancer, until, as he finally returned home he was surprised by an incredible act of love and support. A New York Times article reports his homecoming, and a song commemorates his story (Manuel Garcia © David Roth ~ www.davidrothmusic.com ~ used by permission, performed by Laura Pole).
Sharing love and support (especially emotional support) has a strong positive influence on psychological and physical well-being:
Positive social support seems to enhance resilience to stress.
Those who enjoy good social support have lower risk of depression or psychological distress.35
Emotional support has been linked to preserving physical and cognitive functioning in seniors.36
In the lab and in the community, positive social support seems to enhance resilience to stress. It may also protect against developing psychological problems related to trauma, as well as reduce the functional problems related to post-traumatic stress disorder (PTSD).37
Reducing Risk
Sharing love and support (especially emotional support) has a strong positive influence on disease outcomes:38
Lack of social support seems to increase risks of having a major disease such as cancer, heart attack or stroke.
Integrative Programs, Protocols and Medical Systems
Many outstanding integrative oncology care clinicians, including several of BCCT's advisors, stress the importance of social support and include it in their integrative care protocols and programs:
Keith Block's integrative cancer treatment program teaches patients to individualize their mind and spirit care plan, including mobilizing social support.39
Alschuler & Gazella list social support as one of the five guidelines for cancer patients to find love, laughter and joy. "Seek out social support. Don't underestimate the dangers of isolation."40
The late renowned integrative oncologist Jeremy Geffen described "Seven Levels of Healing" with "Connection with Others" near the top of the list.41
Gary Deng, MD, medical director of the Integrative Medicine Service at Memorial Sloan Kettering Cancer Center, includes "Relationships" as one of the "6 Pillars for Good Health."
The innovative cardiologist Dean Ornish adapted his Lifestyle Medicine program for reversing heart disease for men with prostate cancer. A critical facet of that program is what Ornish calls "love and support." Ornish says the heart of healing is "connection", which includes increasing love and intimacy in our lives, group support, improving communication skills and fluent listening.42
Social support is included in these specific programs, protocols and approaches:
Non-cancer Uses of Social Support
Sharing love and support is considered an important component of care in reducing the risk of and managing many chronic diseases. A prime example is Dr. Ornish's Program for Reversing Heart Disease.
Love and support most commonly come from family members, friends and other loved ones. However, expanding social support networks to include connections in groups, community and church organizations and workmates is not uncommon. Many cancer centers and communities offer support groups for people with cancer. Many online and virtual social support programs are available for people with cancer; some are listed below.
Written by Laura Pole, RN, MSN, OCNS, with review by Nancy Hepp, MS; most recent update on May 14, 2020.
More Information
Know of other helpful resources and information sources about sharing love and support? If so, please use the Comments section below to describe these resources and how we can find them.
Web resources and online support services
Resources for young adults with cancer
Social support resources for caregivers
Books
Halpern S. The Etiquette of an Illness. New York, New York. Bloomsbury. 2004. This book is for people who are ill and want to engage with their loved ones effectively. It is also for those who feel awkward and unsure about responding to a friend, colleague, or relative who is suffering.
Videos
Research review articles
Clinical trials
A number of clinical trials of social support and cancer are recruiting, in progress or recently completed. To learn more about these trials, visit clinicaltrials.gov.
More from Our Resources Database
Enter your comments or questions below.
Comments (0)
-- end quip comments -->