Ralph Moss: My Cancer Journey
Photo from Ruth Hennig
September 17, 2019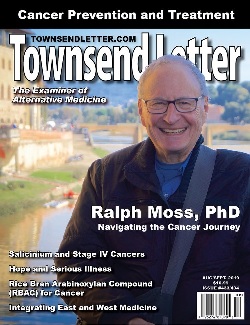 BCCT advisor Ralph Moss, PhD, founder and director of The Moss Reports and the leading chronicler of integrative cancer treatments, has recently written about his own journey with prostate cancer in the Townsend Letter. He begins his story:
I had been writing about cancer for 40 years (and almost 20 years for Townsend Letter) when I myself was diagnosed with an aggressive form of the disease in the summer of 2015. That summer, my wife and I had taken an unconventional blood test called ONCOblot, which purported to tell not only if one had cancer, but the specific type. (This test is no longer available.) My wife's results were all clear, but I scored positive for prostate cancer. But when I took these results to my urologist, she was skeptical. In fact, she assured me, "I am 100 percent certain you do not have prostate cancer!
Ralph did indeed have aggressive prostate cancer. Read his compelling story on the Townsend Letter site: My Cancer Journey.
More Information
Enter your comments or questions below.
Comments (0)