Moving More
Also known by these names
Exercise
Fitness
Movement
Physical activity
Benefits of Moving More
Moving your body reduces the risk of cancer and promotes health after a diagnosis, as noted by the American Cancer Society and several medical groups in their clinical practice guidelines.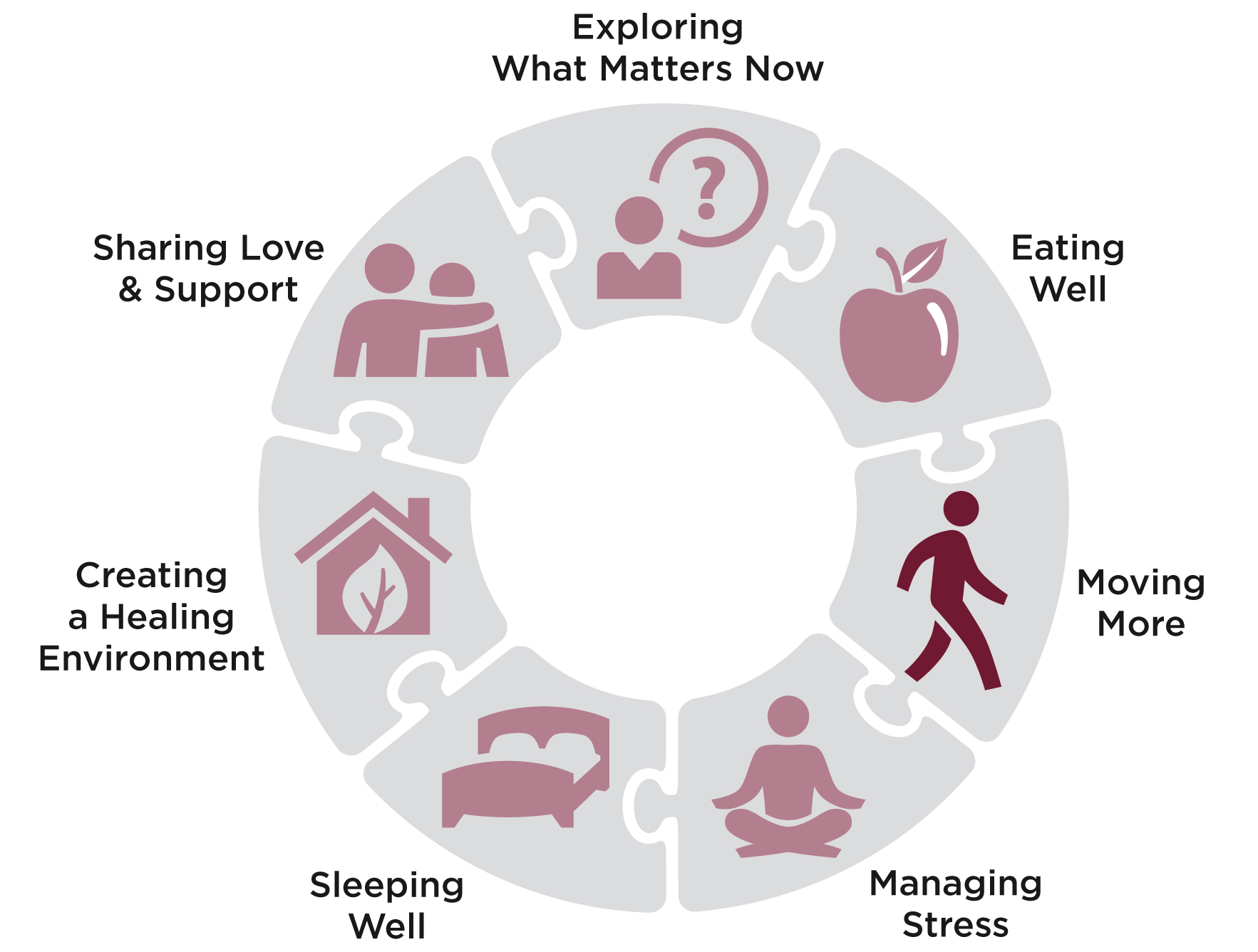 Key Points
Movement can take many forms.
Finding an activity that is fun will increase both motivation and enjoyment.
At least 30 minutes of moderate physical activity every day lowers risks for endometrial, postmenopausal breast and colorectal cancers. More activity may be associated with even more benefits.
Vigorous exercise in short bursts several times a day is also beneficial.
BCCT is interested in moving more because it may reduce the level of physical function decline, increase survival, enhance tolerance to cancer treatments, and reduce sleep disruption and depression associated with cancer and treatments.
Moving more is generally beneficial, but some health conditions warrant caution.
Moving more is beneficial across all cancer types.
Practices to reduce risk of injury are advised.
Authors
Nancy Hepp, MS, BCCT Project Manager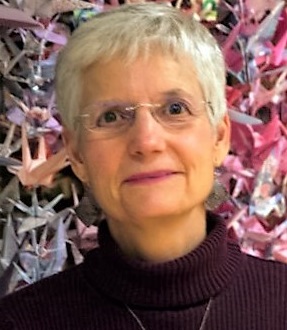 Laura Pole, RN, MSN, OCNS, BCCT Senior Researcher
Reviewer
Ted Schettler, MD, MPH, BCCT Advisor
Last updated August 24, 2021.
Movement includes many activities, such as these:
Walking or hiking
Participation in active sports such as tennis, soccer or basketball
A workout at a gym
Recreational activities such as dancing, bicycling, swimming, skiing or martial arts
Group aerobic activities such as Zumba
Active gardening, yard work or housework
Finding an activity that is fun will increase both your motivation and your enjoyment.
Finding an activity that is fun will increase both your motivation and your enjoyment.1 Movement can also be combined with social activities, increasing the potential for fun and also strengthening your connections to family and friends.
MET-Hours
Exercise may be measured in metabolic equivalents, or METs. MET-hours. Ten MET-hours per week is represented by any one of these activities:2
3½ hours of housecleaning
3 hours of brisk walking
2¼ hours of dancing
1 to 1½ hours bicycling 10-16 mph
Frequent movement can help counteract the health risks of prolonged sitting. The American Institute for Cancer Research encourages people to break up long periods of sitting with frequent activity breaks.3 A large analysis of data from the Cancer Prevention Study-II Nutrition Cohort found that, among low to moderately active adults, replacing sitting with light physical activity was associated with a reduction in cancer mortality, all-cause mortality and cardiovascular disease mortality.4
Anticancer Lifestyle Program
Using expert videos, animation, text and interactives, the Fitness Module of the Anticancer Lifestyle Program explains the connection between fitness and health, providing some tools you need to develop a regular fitness routine.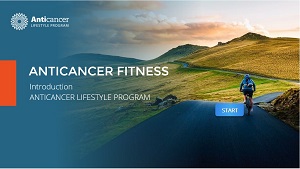 This course is offered on a "pay-what-you-can" basis for 90-day access to all course modules.
Movement and Cancer Treatment
Cancer patients may need to adjust movement types and levels during or after treatments such as surgery, chemotherapy or radiation. Following your doctor's advice is important, but even within restrictions most patients can increase their level of activity and receive benefit. The American Cancer Society's (ACS) Nutrition and Physical Activity Guidelines for Cancer Survivors that "the goal should be to be active as much as possible."
Clinical Practice Guidelines
2009 evidence-based clinical practice guidelines for integrative oncology recommend referral to a qualified exercise specialist for guidelines on physical activity to promote basic health."11
Clinicians should assess individual and community-level barriers to meeting the healthy lifestyle recommendations and support patients in developing strategies to overcome challenges.
The 2018 American Institute for Cancer Research guidelines for physical activity found strong evidence that being physically active decreases these risks:12
In addition, vigorous physical activity decreases the risk of both pre- and postmenopausal breast cancer.
American Cancer Society's Nutrition and Physical Activity Guidelines for Cancer Survivors
From the American Cancer Society:20
Achieve and maintain a healthy weight.
Engage in regular physical activity.
American Cancer Society Guidelines on Nutrition and Physical Activity for Cancer Prevention
From the American Cancer Society:21
Achieve and maintain a healthy weight throughout life.
Be physically active.
The US Department of Health and Human Services (HHS) issues Physical Activity Guidelines for Americans. The 2008 guidelines (the most recent available), include these findings and recommendations:22
Patients may achieve higher fitness levels in a supervised program compared to a self-directed program.23
Guidelines for People in Treatment or with Advanced Disease
Integrative oncologist and BCCT advisor Keith Block, MD, recommends these approaches for those undergoing chemotherapy treatment, with advanced disease or experiencing wasting (cachexia):24
Movement and Being Kind to Yourself
Hydrating with Movement
If you increase your activity levels, especially if you work up a sweat, you'll probably need to pay more attention to staying hydrated. Maintaining optimal levels of fluid in your body has several positive outcomes:25
Prevent the unpleasant and even dangerous symptoms of dehydration
Enable your body to optimize digestion, hormone balance, immune system function, inflammation and other terrain factors
Allow your body to flush toxins out
Contribute to a general sense of well-being
For people with cancer, dehydration may cause your treatment to be delayed until you can be rehydrated, so staying hydrated is an important consideration in your treatment.
Stay hydrated with water or unsweetened beverages (avoid caffeine and alcohol if you're at risk for dehydration).
Find out more about hydrating on our Dehydration and Hydration page.
Activity and Sleep
When you exercise or are more active can impact not only your fitness and metabolism, but your sleep and your response to cancer treatments.
Integrative oncologist and BCCT advisor Keith Block, MD, and his colleagues offer guidance about how and when to be active to promote normal circadian (sleep-rest) function.26
Treating the Cancer
At least a moderate-intensity activity such as brisk walking or climbing stairs is needed for benefit.
Highlighted Video
BCCT Senior Researcher Laura Pole, RN, MSN, OCNS, offers research on moving more and demonstrates some simple exercises.
Working against cancer growth or spread, improving survival, or working with other treatments or therapies to improve their anticancer action
A 2017 review of evidence came to these conclusions:27
A growing evidence base indicates that physical activity has potential value at all stages of cancer care.
Preliminary evidence associates regular physical activity after a cancer diagnosis with longer survival and lower risk of recurrence or disease progression.
Preliminary evidence suggests that following an exercise program before treatment (prehabilitation) leads to increased cardiorespiratory fitness, fewer post-operative complications and shorter hospital admissions.
Breast Cancer
Colorectal Cancer
Lung Cancer
Lymphoma
Prostate Cancer
Uterine (Endometrial) Cancer
Managing Side Effects and Promoting Wellness
Managing or relieving side effects or symptoms, reducing treatment toxicity, supporting quality of life or promoting general well-being
Physical activity interventions improve quality of life and other patient-reported outcomes during and after cancer therapy.
Reviews of research support the role of moving more in quality of life:
"Physical activity interventions improve quality of life and other patient-reported outcomes during and after cancer therapy."52
"Cancer survivors who exercise can potentially benefit from reduced levels of fatigue, and improved quality of life, physical function, and body composition."53
A large prospective study of breast cancer patients enrolled in the Women's Health Initiative found that increasing levels of exercise before diagnosis was associated with a significant graded reduction in subsequent cardiovascular events in long-term survivors of primary breast cancer.54
Greater muscle density is associated with lower patient symptoms (including anxiety and depression) and reduced use of health care.55
Women with mild to moderate depressive symptoms reported significantly better scores in all five measures of depression in a small randomized trial. An intervention combining a brisk 20-minute outdoor walk, increased light exposure throughout the day and a vitamin regimen had high adherence for eight weeks. The goal of the walk was to increase target heart rate of 60% of maximum, and the supplements included vitamins B1, B6, B2, B9, D, and selenium.56
Movement has also been shown to reduce these symptoms and side effects of cancer and treatment:
Anxiety: variable evidence by cancer type and stage of treatment

Modest evidence of lower anxiety (small effects) across cancer types except during chemotherapy:
Modest evidence of less anxiety among people with breast cancer both during and after treatment
Modest evidence of no effect among people with colorectal or blood cancers
Preliminary (mixed results) evidence of effects among people with lung cancer

Fewer symptoms of anxiety among people with lung cancer with exercise interventions in a meta-analysis of RCTs66
Less anxiety among people with lung cancer with home-based exercise in a meta-analysis of RCTs67
No change in anxiety among adults with advanced lung cancer with exercise training in a pooled analysis of RCTs68

Modest evidence of effects among people (not specific to those with cancer), including those with anxiety and stress-related disorders

Changes in appetite:

No effect on appetite among people with lung cancer with home-based exercise in a meta-analysis of RCTs73

Quality of life and physical function:
Pain:
Other symptoms and side effects:

Improved muscle strength among people with cancer with exercise-based rehabilitation compared to usual care in a systematic review of RCTs110
No affect on coughing among people with lung cancer with home-based exercise in a meta-analysis of RCTs111
A 2010 review and meta-analysis found these effects of physical activity interventions with cancer survivors:115
A large effect on upper and lower body strength after treatment
Moderate effects on fatigue
A small to moderate positive effect for physical activity level, aerobic fitness, muscular strength, functional quality of life, anxiety and self-esteem
With few exceptions, exercise was well tolerated during and post treatment without adverse events.
Reducing Risk
Common Benefit
A large study published in 2021 found that traditional risk factors for cardiovascular disease were also related to increased risk of cancer, while a heart-healthy lifestyle is associated with a lower risk of future cancer. Factors that reduce risk (Life's Simple 7) include getting active.124
Reducing the risk of developing cancer or the risk of recurrence
Physical activity helps to lower cancer risk in several ways:
Regular activity helps keep hormone levels healthy and reduce the contribution of high hormone levels to cancer risk.
Being active may strengthen the immune system.
Activity helps speed potentially harmful substances through the intestinal tract.
Staying physically active can help manage body weight125 and the contribution of body fat to increased risk for many types of cancer.
Physical activity after a diagnosis of cancer is associated with a lower risk of cancer recurrence in survivors of several common cancers.
Breast Cancer
Colorectal Cancer
Esophageal Cancer
Kidney Cancer
Liver Cancer
Lung Cancer
Lymphoma
Myeloma
Pancreatic Cancer
Prostate Cancer
Stomach (Gastric) Cancer
Uterine (Endometrial) Cancer
Optimizing Your Terrain
Inactive women with newly diagnosed breast cancer were enrolled in an exercise intervention for about a month after diagnosis and until undergoing surgery. Compared to women participating in a mind-body intervention control group, those exercising demonstrated significant upregulation of 18 unique pathways, including several implicated in immunity and inflammation.151
A study with mice found that voluntary exercise accelerated muscle repair in old mice and improved old muscle stem cells function related to rejuvenation.152 Another study with mice found that exercise enhanced the effect of immune system CD8+ T cells, which fight certain forms of breast cancer and other solid tumors. As a result of exercise, tumor growth was reduced in mice inoculated with different types of cancer cells.153
Preliminary research in both humans and animals has found that exercise promotes an increase in microbial diversity within the gut.154
Cautions
What's the Difference between Exercise and Physical Activity?
According to Ted Schettler in The Ecology of Breast Cancer: "Exercise is a form of physical activity that is usually planned, structured, and done to improve some aspect of fitness such as strength, flexibility, or aerobic endurance. Exercise also improves general health, well-being, and overall quality of life. Physical activity includes activity that is part of daily life. Household, workplace, and lifestyle physical activity are most common."155
Both types of movement provide benefits.
Moving more is generally well tolerated by patients. However, some health conditions such as heart conditions or deep vein thrombosis may cause exercise to be a problem. Avoid exercise during bouts of vomiting, nausea and diarrhea. Patients may be advised not to exercise on days of chemotherapy treatments or for 24 hours afterward. All patients are encouraged to seek the advice of their healthcare provider before undertaking a new or increased exercise routine.156
Physical activity involves the risk of injury. Building strength and balance as exercise is gradually increased, paying attention to proper technique, and other precautions are recommended.157
A 2017 review of evidence noted a few cautions:158
Avoid high-intensity activities when immunosuppressed, or when experiencing pain, severe fatigue, or compromised bone health.
Avoid activities requiring balance when frail or experiencing dizziness or peripheral sensory neuropathy.
Anyone with a stoma should start with low resistance exercise and progress slowly to avoid herniation.
Integrative Programs, Protocols and Medical Systems
Highlighted Video
Brian Bouch discusses integrative oncology, part 1
Programs and protocols


Alschuler & Gazella complementary approaches:159

Cancer prevention
Cancer treatment
Hormone balance
Immune system function
Lowering risk of cancer recurrence/secondary cancers
Reversing insulin resistance
Treatment recovery and survivorship

Cohen & Jefferies Mix of Six anticancer practices161
Lemole, Mehta & McKee top 5 lifestyle interventions for all their protocols163
MacDonald breast cancer program164

Traditional systems
For Professionals
Better exercise behavior among people with cancer with an online physical activity or diet intervention in a meta-analysis of RCTs166
Better breast cancer‐specific quality of life and global quality of life, plus less anxiety, fatigue and insomnia immediately after home‐based, multidimensional survivorship interventions for breast cancer survivors167
Non-cancer Uses of Moving More
Physical activity is used for these conditions and purposes:168
Obesity and overweight
Heart disease
Type 2 diabetes and metabolic syndrome
Mental health and mood improvement
Increase strength and prevent falls
Increased longevity and quality of life
See also:
BCCT has not reviewed the effectiveness of moving more for non-cancer uses.
More Information
Movement and Cancer Risk or Outcomes
Resources for Increasing Activity
More from Our Resources Database
Enter your comments or questions below.
Comments (0)
-- end quip comments -->